We've begun the foster care process.
Some of our paperwork has been completed and I've attended two of the required five classes.  I also have about five hours of on-line training to complete.
We were not able to get arrangements made for both hubby and me to attend the first two classes together, so he'll make them up at a later date.
The agency we've signed with came out to take a look at our house and we will have quite a bit of things to take care of before getting our license.  The biggest project is getting screens on all our windows.  We bought the house knowing most of the screens were missing, but it is a requirement for getting our license.  Plus, now that the weather is cooling off a bit, I wouldn't mind opening some windows from time-to-time 🙂
I'm also in redecorating mode.  Or maybe I should say decorating mode.
Today I found a paint color I'm LOVING for our downstairs living room.  I've purchased a few things for the walls and am anxious to get the painting done and things hung up.  Seriously, we have NOTHING on our walls yet and we've been in the house for almost 5 months now.
Because I have a bad habit of starting multiple projects at once, I'm trying very hard to finish a project before starting another.  The first project on the list is the downstairs bathroom.
This bathroom has two doors.  One inside the house and one that leads to the pool area.  It was another reason we liked this house so much.  However, it was discovered during the home inspection that the door lock was stuck.  A few days after moving into the house, hubby took off the lock and door knob to change it out.  When he opened the door, the bottom of the door fell off.  It was a steel door and the bottom had rusted.  It was still usable, but there was a gap at the bottom, so the door had to be replaced.  Hubby and our BIL took care of that project a few weekends ago.  We now have a fiberglass exterior door, which should last quite some time.
That was just part one of the project though.  The bathroom needs new paint (because I don't like the current paint color), a new sink with vanity (because I don't like the pedestal sink) and a new toilet (because the one in there now is short).
I don't find choosing a paint color simple.  I look thru sample after sample after sample until I find something that I like.  Then I got buy a sample and slap it on the wall to see how I like it in that room.
I found a color I liked and painted it on part of one bathroom walls.  By the next day, I decided it wasn't exactly what I wanted, so I found another and got a sample to compare.  I painted it on the other half of the wall and on another walls to get a different view.
Now that I've compared, I've decided I don't like either one and have chosen yet another color.  I'll get that sample tomorrow and try it out.
At least I have some pictures posted, so when the room is finally done I can post the finished project.
Second project is Naomi's room.  If we're going to continue moving forward with foster care, the girls will need to share a room so we have the space for up to two foster children.  Since Naomi has the bigger of the two rooms, we though it made the most sense to start there.  It will become "The Girls" room and they will be getting bunk beds.
I was looking some today and found one I really like.  The girls like it a lot as well.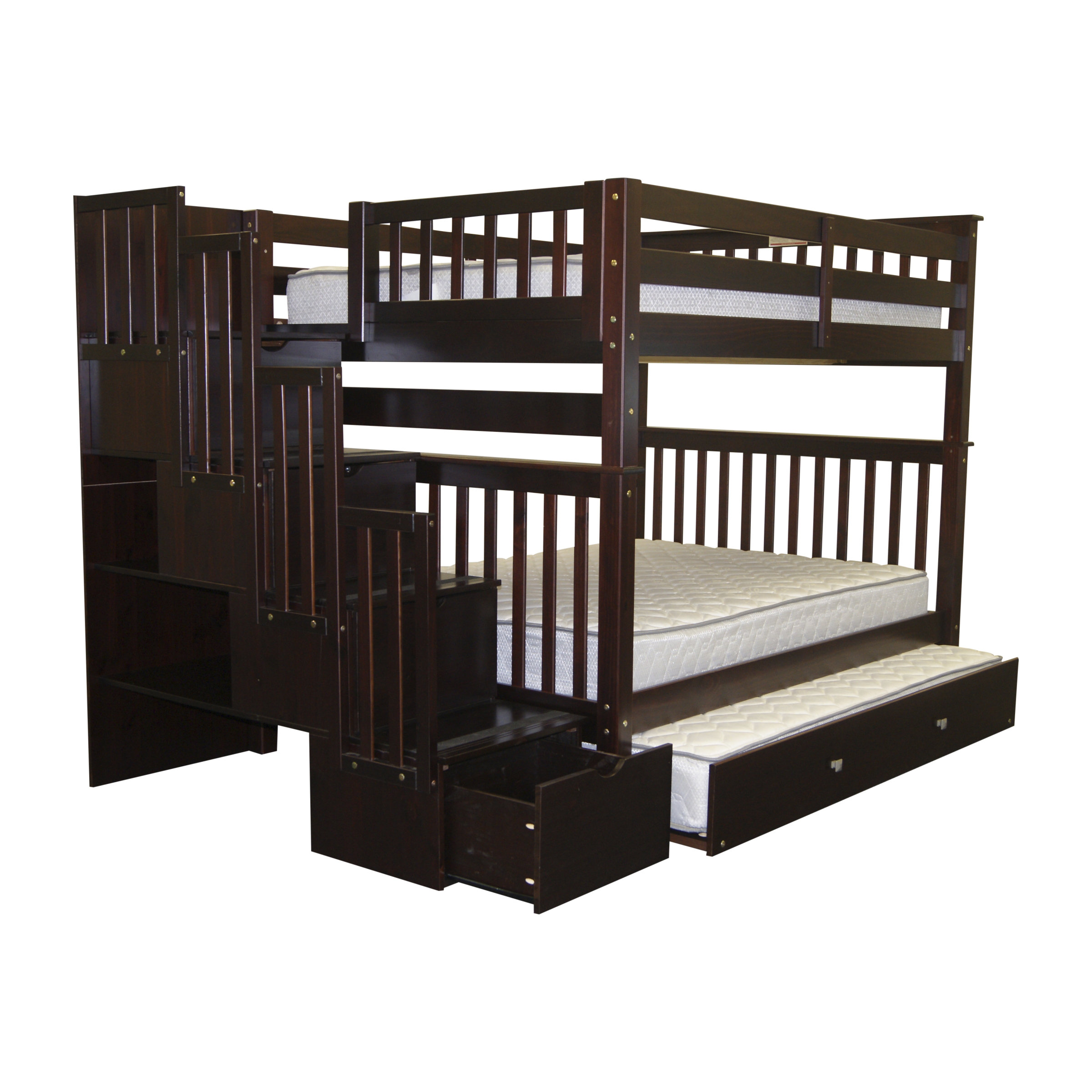 The girls each have full-sized beds and this is a full over a full bunk bed.  We can use their existing mattresses and this bed also has a trundle which I like.  That gives us a little extra space for them to have guests over for the night.  I also like the fact it has stairs instead of a ladder.  Plus, each step has a drawer for additional storage.
Obviously, we'll need to tackle the other bedroom and get it ready for foster children, but that will pretty much be painting for now.
Other than that, life is moving along.
Hubby has been super busy with work lately.  When he's not traveling or working at the office, he's home working.  He takes time off for dinner and a little family time, but we don't feel like we're seeing a lot of him these days.
The girls and I are also good about staying busy.  Naomi is still taking an acting/drama class and she "loves" it.  Lili started a mixed media class a few weeks ago and is really enjoying that as well.  We also participate in a homeschool co-op that meets weekly.
In their spare time, the girls are enjoying time playing on my new phone.  Both are into the Pokémon Go thing right now, but Snapchat has kept them entertained as well.
Although Lili enjoys taking pictures of her little dog Jagger.
Although I've gotten really bad at blogging (Sorry about that), we're doing pretty well here.