My family has made fun of me for wanting to regularly move furniture around. I enjoy trying different set ups to make a room look different. When things stay the same for long periods of time, they begin to "collect dust", so-to-speak. Suddenly I find myself with a stack of papers that need attention or toys that kids have outgrown or are broken that need to be removed from the house.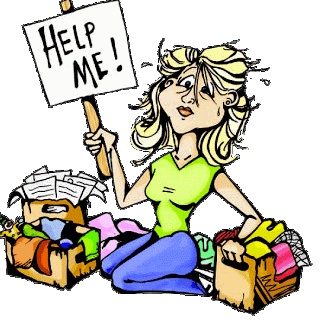 Clothes are another big one. Things that are out-of-style or no longer fit. Or the belief that one day I'll shrink into something that no longer fit. Ha!!!
The problems I've run into in our new home is that in some rooms, there isn't a better way to rearrange the furniture. Take our living room form example . . . . the furniture we bought for only fits one way. It's a large sectional piece that we really do like a lot, but between the size and shape of the room and the size and shape of the furniture, it is not going anywhere else.
If I couldn't tackle the living room, I decided to pick a room that needed some help so I chose our youngest daughter's bedroom. Previously, I had moved things around a little, but I still didn't like the flow of the room. As I stood in the middle of her room and looked around, I knew exactly what needed to be done and so it began.
Her dresser is attached to the wall to keep it from being pulled over, so it stayed put, but her toys and shelves needed to be swapped with her bed. Once everything was moved, I looked at the pile of stuffed animals in the middle of the room and within a couple of days, hubby was hanging nets in her room so I could get that pile removed. My kids have collected A LOT of stuffed animals over the years and somehow most had made it to this bedroom.
The end result is a room that looks and feels so much better. She now has more floor space for playing and seems to enjoy going upstairs to spend some time in her room at some point each day. She really didn't do that before.
Now that I had tackled one project, it was time to move on to the next which included sorting thru more toys, throwing out the broken ones and organizing the rest. In the end, I was able to take one of the shelves housing the boys and move it to a closet where I could begin organizing games and homeschool supplies.
These organization projects are like the snowball rolling down the hill getting bigger and bigger and bigger as it rolls. The projects started out fairly small and easy, getting a little bigger and more time consuming each time. Now the snowball was about to get bigger than I imagined as I tackled . . . .
THE PANTRY!!!
In our old house, the pantry was more like a small closet with four deep shelves. Things tended to make their way to the back of those shelves and would get forgotten or when needed, it would require digging thru everything in the front to get to the item in the back. I HATED that pantry.
One of my requirements for our new house, was a walk-in-pantry and that is what I got. It isn't huge, but the shelves aren't so deep that things get lost on the back of the shelves. It's also space that could be well organized and that was the project I needed to tackle once and for all.
I knew this was going to take a couple hours of my time. After all, I needed to pull everything out of the pantry, wipe down the shelves, sweep the floor and then put everything back in a nice, neat order. What I didn't realize is that the couple hours of my time turned into four hours and then five and finally after seven hours I was at a good stopping point. Granted, I did take a short break for lunch, but it became very clear that I had completely underestimated how long this project would take.
I set up everything in sections. A section for all our taco supplies because most Tuesdays are Taco Tuesday at our house. Then a section for canned goods, condiments, cereals, spices, baking supplies, etc.
Sadly, I didn't take any before pictures, but let me just say that while some pantry items were easy to find, it was not even close to how it looks now.
Maybe my enjoyment of changing things up is one of the reasons I enjoy traveling so much.
I love a change of scenery and now some of the space in my house have given me a different change of scenery as well.