I hope all who celebrate had a wonderful Thanksgiving.
Growing up and threw much of my adult years, Thanksgiving included a house full of family. Between living so far away from some of our family and the family who we live closer to now having their own family Thanksgiving traditions, it is much quieter now. Or as quiet as our house gets with hubby, the girls and me. Hubby's sister was also with us this year, which has been nice.
We also brought back a Holiday tradition that faded away as Lili and Naomi got older.
A few weeks ago, I pulled out all of our children's Christmas books and wrapped them. Lili and Naomi helped with some of the wrapping and today the books were placed under the tree.
Tonight, Arryn chose two books to unwrap and we sat together as a family and read them. Granted, all of the books are geared toward the younger kid crowd, so not necessarily that interesting for Lili and Naomi. Still, as I began reading to Arryn, they moved closer to look over my shoulder as I read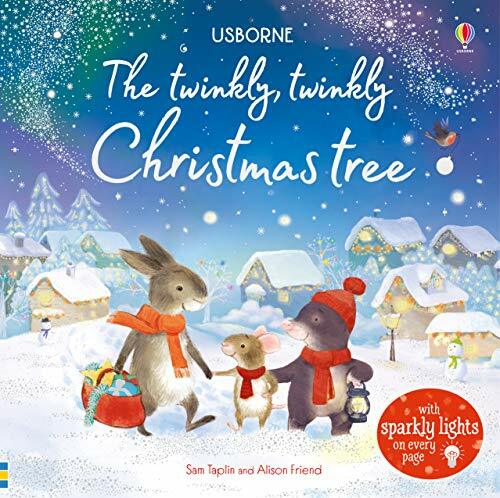 and
Every night thru December 24th, two books will be chosen, unwrapped and read. Then, on Christmas Eve we add a third book as we read The Night Before Christmas. It's a tradition we started with Lili and Naomi when Naomi was about Arryn's age and something they looked forward to every night. It started much smaller, with just a couple books a night a few days before Christmas and grew each year. As they got older, they outgrew the books and the tradition just went away. Arryn is the perfect age to start again.
I thought it would be fun to give a review of the books we read each night in case someone reading these posts is looking for new holiday books for their kiddos or in case my girls are one day reading this blog and trying to remember the name of some of their favorite books we read together.
For littles, Usborne's the Twinkly Twinkly Christmas Tree is a good choice. You slide the switch on the back of the book to the on position and begin reading. On the first page you will find one twinkly light and as you turn the pages, you'll find more lights added until you reach the very last page to find the Twinkly Twinkly Christmas Tree. It's a very quick read with only a few pages making it great for toddlers and pre-schoolers. Althought even some youner kids would enjoy the lights displayed in the book.
The Gingerbread Pirates was a favorite of Naomi when she was younger and Arryn very much enjoyed it tonight.
Jim and his mother bake and leave pirate gingerbread cookies for Santa, except for Captain Cookie, who is Jim's favorite. After Jim falls asleep on Christmas Eve, Captain Cookie goes on an adventure and learns about Christmas.
I have a feeling that we'll be reading The Gingerbread Pirates a few more times before I pack the books away for next year.